Group Exercise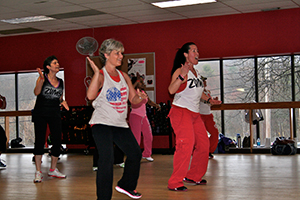 Cedardale Andover is open. Click for the details.
Cedardale will be opening an alternative location featuring Group Ex, Tennis and Fitness in Andover, MA at 307 Lowell Street (formerly the Boston Sports Club). Check back for more details. (March 24th, 2017)
Cedardale recently experienced a massive fire causing the club to close until further notice. We will rebuild - please come see us then! (March, 2017)
Cedardale Andover offers a wide variety of classes every week. Classes are available to all Members over the age of ten. All classes are drop-in with the only exception being Spinning. Spinning classes have a 24-hour reservation system with sign-ups being taken at the Front Desk. All Group Exercise classes are free to members.

New Group Fitness Schedule - Effective Oct 1st
Upcoming Events
21 Oct

Class Offerings Include

Spinning
Yoga
Zumba
Strength
POUND
Circuit
HIIT
BodyPUMP
Boxing Tabata