Fitness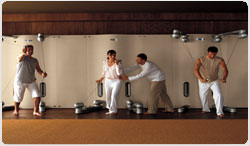 Cedardale Andover is now open!
The club features Group Fitness Classes, Tennis and Fitness. It is located at 307 Lowell Street (formerly the Boston Sports Club). Click for details.
Cedardale will be opening an alternative location in Andover while we rebuild. Details coming soon! (March 24th, 2017)
Cedardale recently experienced a massive fire causing the club to close until further notice. We will rebuild - please come see us then! (March, 2017)
Living a healthy lifestyle starts here at Cedardale with a personalized fitness program designed to help you take the first steps toward reaching your health and fitness goals. Whether you are an experienced exerciser or you haven't exercised in years, our certified Trainers will determine your level of fitness, plan a personalized exercise program, check your progress, and help you stay on track. Kick it all off with a New Member START appointment. Check out the video or click START Program for complete details.
Exercise - A Key to Slowing Osteoporosis

Our Wellness Coach Kelly Betts tells us why exercise is so important in fighting Osteoporosis.

MYZONE Heart Rate Monitoring System

MYZONE is the physical activity tracking system that allows you to maximize the efficiency of your workouts, track your workouts and have some fun! Learn how MYZONE can take you to your next level of fitness!


NEW MEMBER START PROGRAM

Joining a Health Club can be an overwhelming task. That is why we have our S.T.A.R.T. program!